Restaurant Pod Věží Hradec Králové
Restaurant "Pod Věží" Hradec Králové
The restaurant offers a wide range of food from Czech to various international cuisines and also a wide range of beverages. The capacity is from 40 to 50 places. The restaurant is equipped in a modern style.
Daily menu
For regular guests we serve daily menu for discount prices from Monday to Friday (10:30 - 14:30).
Summer terrace
In the warm season it is possible to sit in the summer terrace, which is located in front of the restaurant.
The roof on the terrace protects our guests before the sun and rain. The terrace is with the view on the romantic and historic square, White tower and Cathedral of the Holy Spirits.
Entertaining events
In the lounge, we offer a possibility of organizing entertaining events, wedding feasts and company evening parties. The capacity of the lounge is 30 places. Here you have the possibility to spend pleasant while with reproduced music on the dance floor or sit on the terrace, which is the part of the lounge.
We offer also other lounge, the capacity is max. 14 people. The lounge is in period style.
Restaurant "Pod Věží" Hradec Králové Time of preparation: cca 30…
Read more »
Restaurant "Pod Věží Hradec Králové" APPETIZERS | RUMS |…
Read more »
Restaurant "Pod Věží" Hradec Králové Sparkling wine …
Read more »
Reservation
HOTEL VACEK "Pod věží"
ACCOMMODATION AND RESTAURANT
HRADEC KRÁLOVÉ
VELKÉ NÁMĚSTÍ 165
500 03 HRADEC KRÁLOVÉ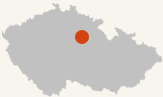 GPS:
50°12'32.894"N,
15°49'52.619"E
RECEPTION:
Tel: +420 495 514 932
+ 420 602 583 210
Fax: + 420 495 514 932

Email : hotel@pod-vezi.cz
We accept these credit cards