Accommodation hotel Vacek "Pod Věží" Hradec Králové
Accommodation in Hradec Králové - hotel Vacek "Pod Věží"
Accommodation is provided in single and double rooms. For more demanding clients we offer accommodation in a luxury roof apartment (max 4 people). The larger double rooms are with option of extra bed.
The rooms in all categories are equipped with television, telephone, minibar, wc, separate bathroom with shower or bath and a hairdryer.
In the hotel is free internet access (WIFI).
The hotel provides wellness (jacuzzi, sauna) and the restaurant also. The guests staying at hotel Vacek "Pod Věží" can use for transport a luxury car (for transport to and from the airport).
Hotel Vacek "Pod Věží" is located in the historic part of Hradec Králové.
Several rooms are with the view on the White Tower with the historic bell Augustin and Cathedral of the Holy Spirit, which are located close to the hotel. The White Tower dominates the Hradec Kralove, the beginning of reconstruction was in 1574. The exact date of origin of the Cathedral of the Holy Spirit is not known, but the beginning of the 10th century is featured.
3D View
Standard single and double rooms The single and double rooms with an area of…
Read more »
Our hotel is still open during the Covid-19 pandemic, with accommodation…
Read more »
Reservation
HOTEL VACEK "Pod věží"
ACCOMMODATION AND RESTAURANT
HRADEC KRÁLOVÉ
VELKÉ NÁMĚSTÍ 165
500 03 HRADEC KRÁLOVÉ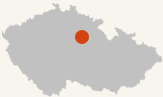 GPS:
50°12'32.894"N,
15°49'52.619"E
RECEPTION:
Tel: +420 495 514 932
+ 420 602 583 210
Fax: + 420 495 514 932

Email : hotel@pod-vezi.cz
We accept these credit cards